2017 Quilts
Gallery of 2017 Shop Hop Quilts
This page features the 2017 Quilted Garden quilts made from each participating shop. Unique Sampler Quilt made using a specially chosen palette of beautiful cotton prints and Exclusive Fabric. It's amazing how each shop's quilt is so unique, especially when you realize they have not seen each other's quilts until the day of the photoshoot.
Our photoshoot was held outside of Fire Station #3 in Newton, KS. That allowed natural lighting, a bit of Kansas breeze and some prairie grass to enhance the photos. Thank you Lily for your wonderful pictures!
To see a larger picture of each quilt, click on the quilt.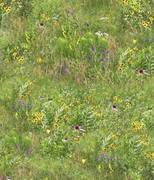 CHARLOTTE'S SEW NATURAL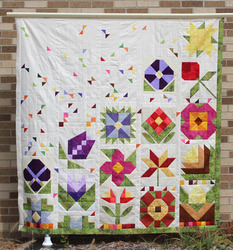 COTTONWOOD QUILTS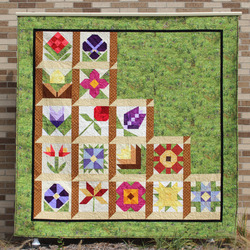 88" x 88" Bees in the Window
FIELD TO FABRIC QUILT CO.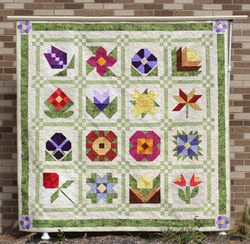 82" x 82" Bloom Where You Are Planted
HEN FEATHERS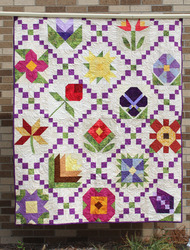 NEEDLE IN A HAYSTACK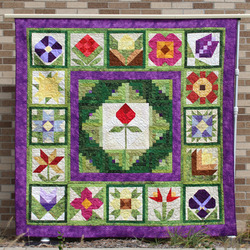 76" x 76" Field of Petals
PICKET FENCE QUILT CO.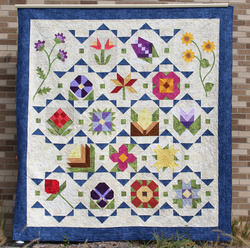 PRAIRIE FLOWER CRAFTS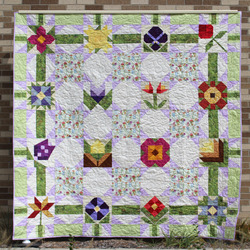 STITCHES QUILT SHOP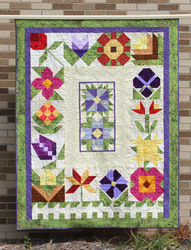 57" x 74" Around the Picket Fence