CENTRAL KANSAS QUILT SHOP HOP
FOUR DAYS: OCTOBER 4,5,6,& 7, 2018
Join the fun and excitement of the 2018 Central Kansas Quilt Shop Hop. This year is the 20th anniversary of the Shop Hop. We're open four days (Thursday-Sunday) which gives you plenty of time to visit all 8 shops. Grab a carload of friends and family for your drive to shops in Alden, Hutchinson, McPherson, Newton, Severy, Wichita, and Winfield to discover the friendliness and unique personality of each shop.
Sometime in September, pictures will be posted of the shop's quilts, so check back later for more info. As always, you can go to the Shop Hop Tips page for tips on making your hopping easier and more fun!

Shop Hop hours are Thursday, Friday, and Saturday 9 am to 8 pm and Sunday 1pm to 4 pm.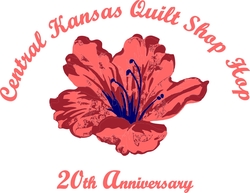 CHARLOTTE'S SEW NATURAL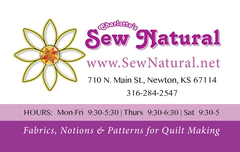 COTTONWOOD QUILTS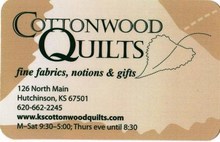 FIELD TO FABRIC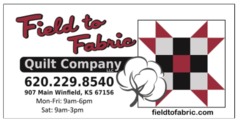 HEN FEATHERS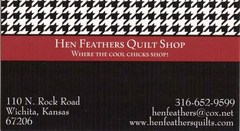 NEEDLE IN A HAYSTACK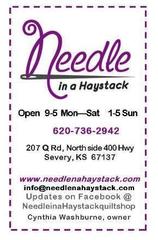 PICKET FENCE QUILT CO.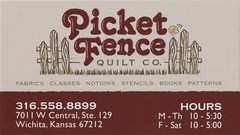 PRAIRIE FLOWER CRAFTS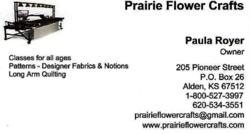 STITCHES QUILT SHOP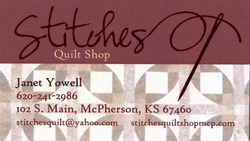 MANY, MANY PRIZES
All returned passports will be eligible for door prizes.

Each store does their own store door prizes, as well.

Visit all 8 shops to be eligible for special prizes.


All quilters with 8 Shop stamps will also be eligible for a Thank You gift, as supplies last.
EXCLUSIVE T-SHIRTS AND FABRIC FOR SALE
T-shirts will be available in later summer. Limited number printed.

Fabric will be available during the Shop Hop. Limited amount available.
SHOP HOP TIPS
For Shop Hop Tips, click on at left menu of this page. Contact any of the individual shops for details on the Shop Hop, where to start, how to get there, where to eat, where to stay, etc.